Shoebox Craft Saturdays is an event we host once a month (typically 3rd Saturday) to create items for shoeboxes.
Anyone/everyone is welcome to attend.  Details about each event is posted in our Facebook group, Silo Baptist Church Operation Christmas Child.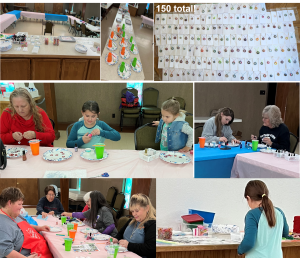 May - T-shirt Jump Ropes
T-shirt Prep: Continuous strip yarn
Operation Christmas Child is a Shoebox Ministry of Samaritan's Purse. Dolores Kiser has coordinated projects to make items to go into the boxes as well as Packing Parties for years.  Thanks to her tireless efforts, Silo Baptist Church delivered over 260 shoeboxes to Bryan Baptist Association in 2021.
We'll be doing things a little different and I hope everyone at SBC collects items year-round.  We have a little Christmas tree dedicated to OCC at the top of the slanted hallway.  There is a lot of information as well as a donation bin.  Each month we'll collect items for our Shoebox Packing Party in late October/early November.  If you have any questions, or if you'd like to get involved, please contact me at 580.380.2719 or email lmcarter1964@yahoo.com.
Craft Activities include stuffing teddy bears, writing letters/drawing/coloring pictures, making jump ropes, as well as other things that are age appropriate.
Visit https://www.samaritanspurse.org/what-we-do/operation-christmas-child/ for more information.